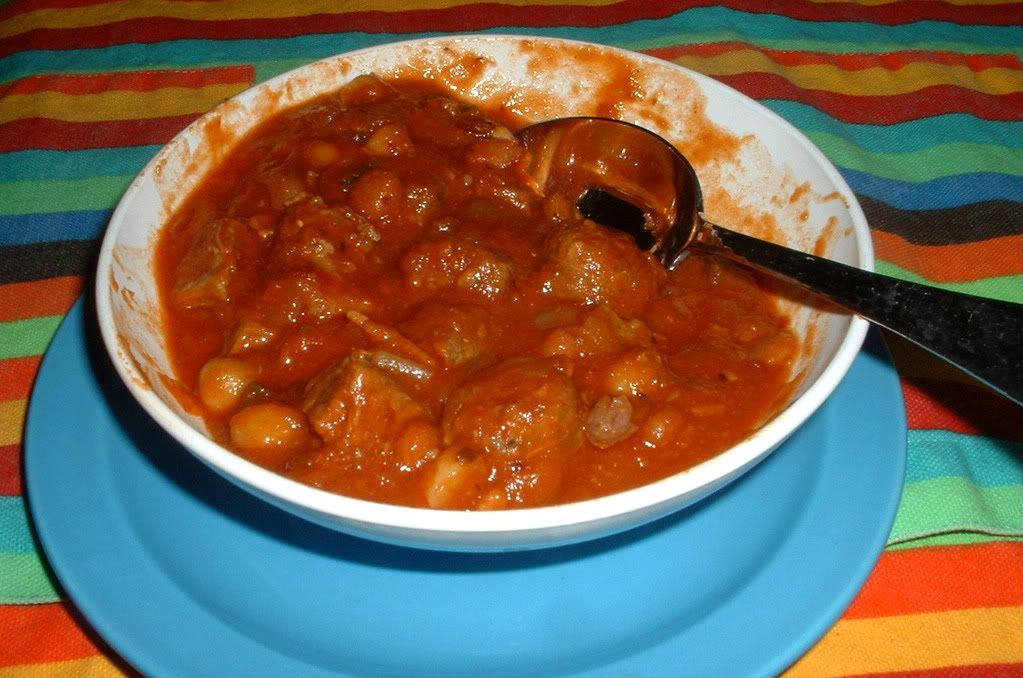 In my opinion, the most important ingredient in vegetarian chili is meat. Yep, that's what makes it good - the more the better. Now, Breda is a purist and does not consider it chili unless it has kidney beans and ground beef as a base. I made this last night, and in deference to my lovely wife, I call it Mexican Stew (but really it's chili).
Ingredients:
1 lb. chorizo cut into slices
1.5 lb. boneless beef chuck short ribs cut into small cubes
5 slices of bacon
1 large green bell pepper - diced
1 poblano pepper - diced
1 large yellow onion - diced
1 15 oz. can of pinto beans - drained
1 15 oz can of chick peas (garbanzos to you fancy types) - drained
1 12 oz can of tomato paste
2 cloves of garlic - minced
1/2 tablespoon of salt
1/2 tablespoon oregano
Now the important part:
1 dried chili pepper - seeded and minced
2 dried Jalapeno peppers - seeded and minced
2 dried chipotles - seeded and minced
1 large fresh jalapeno - seeded and minced
1/2 teaspoon dried chili powder (I like the chipotle, but ymmv)
The above produce a sting on the tongue, some sniffles, and slight perspiration, but no permanent damage - I would say a 4 or 5 on a scale of 10 - feel free to add more heat to suit your particular pain threshold.
Fry the bacon in your chili pot till crisp (why dirty a skillet ?). Take it out and crumble it, but don't pour off the drippings.
Fry the sliced chorizo in the bacon fat (this is a healthy recipe after all, and nothing says cardiac goodness like bacon fat).
After the sausage is brown, remove from pot, and drain off all but 2 tablespoons of drippings.
In the reserved drippings, cook the green pepper, poblano pepper, onion, garlic, diced beef and all the dried peppers until the meat is browned. Do not pour off the juices.
Add 2-1/2 cups of water and everything else, save for the beans, and bring to a boil.
Reduce heat and simmer for thirty minutes and add the beans.
Let it bubble away for another thirty minutes plus however longer it takes to achieve the thickness you like.
Pour everything on the floor and let your family fight for it like wolves.
Alternatively - spoon it into bowls and serve with fresh bread and a nice lager.
The good thing about this recipe is that it serves as a starting place for all sorts of variations - add some corn, or potatos, or use Italian sausage - the sky is the limit.