Breda has the picture and story
here
.
When we were at the range, I had the opportunity to run a couple of magazines through a Baby Browning. Truth to tell, I kind of liked it. The little thing shot pretty much to point of aim at 15 feet, and kept all the rounds in a 2" to 3" circle, and for me anyway, experienced no failures to feed, fire, or eject.
Both Breda and her mom had trouble even getting the thing to run - the first problem is the slide requires considerable hand strength to operate, while the pistol itself offers very little area for getting a good hold. The next problem is related - there is only room for one finger on the grip, and unless you really bear down, the gun will shift in your hand dissipating enough of the recoil impulse to result in failure to reliably eject. Finally, making the whole thing worse, is the fact that if you try to hold higher in the frame, (a natural reaction to try to get a more secure grip) the slide will ride back across the top of your hand creating your own little set of railroad tracks.
I think it's a case where the design of the gun was so successful that it ultimately failed. (See Update)It was made small enough to hide anywhere and then deployed in a hurry, but if you don't get a perfect hold it's going to jam on you, thus defeating the purpose of a back up gun.
If "smallest possible" is your goal, you would probably be better served by one the the NAA mini revolvers, but when a dangerous dame gets the drop on Phillip Marlowe this is what she's holding.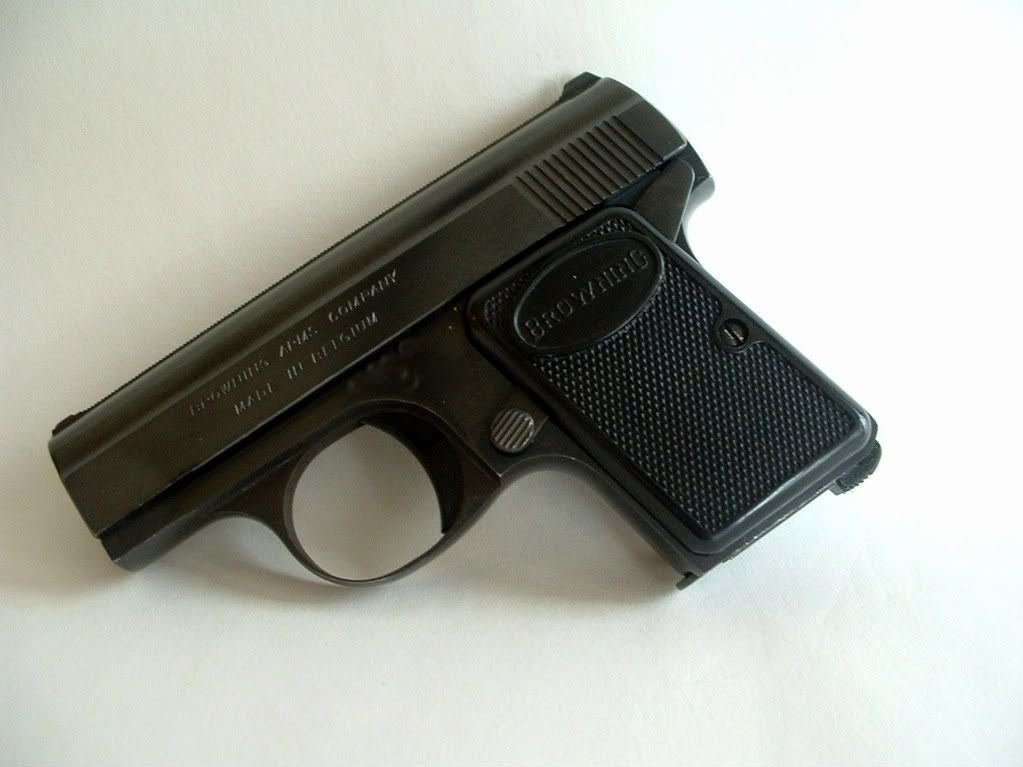 "Reach for the sky, shamus."
Update:
James Rummel Takes exception to my use of the word failure
.
Actually, he is correct, I was writing without thinking, and failure, was not the word I should have used.
What I was trying to convey, albeit clumsily, (hey, it was afternoon at work, and I was in the torpor stage of my day) is that all firearms - all machines actually - consist of a series of trade offs. With hand guns, you are balancing size, weight, capacity, power of cartridge, ease of use, cost, and many other factors.
Hideout pistols trade capacity, and in case of the .25 autos, stopping power, for concealability.
The Baby Browning I shot was a finely crafted pistol - well designed and a pleasure to look at, but I think in this case, too much was traded off for size.
It obviously wasn't a failure commercially, but a gun that you are likely to need "right here, right now" had best be as close to 100 per cent reliable as possible, and the Browning because of its small size (not design flaws) is susceptible to jams caused by improper grip.
It is not fair to compare a pistol designed in the early part of the twentieth century to modern designs, and if I had a chance to buy one at a decent price I would - It's a very cool gun, but I would not carry it for defense.
So, no, the Baby Browning was not a failure, and the dangerous dame from the above would just not be the same holding a Kel-Tec.