I do not know if
Mr. Rummel
is a religious man. Heck, I'm not, but you don't have to be religious to recognize when someone is
doing the Lord's work
– and Mr. Rummel most assuredly is.
A day or so ago he posted an insightful piece about America's pistol – the .45 ACP government model of 1911 its heirs and assigns.
And now the Gun-O-Sphere has once again gone up in flames with .45-vs-Glock-vs-who all knows what fever.
I have thought back, and to the best of my imperfect memory, I don't believe I have ever fired John Moses Browning's (PBUH) masterpiece.
I've shot a fair amount of forty five auto – through Glocks, XD's and other polymer wonders, but never a 1911.
I don't feel a void in my life for this lack of experience, but nonetheless, one should own and fire this quintessential firearm – it's a kind of duty which has been laid upon us by history.

So, when one of these showed up at my local gunshop, I felt it was time to do my duty, and make America proud. I realize it is not a Colt or Kimber, but it was half the price of their compact models, all steel, reasonably small so it could serve as a carry pistol, and with the right magazines and tuning, reliability wouldn't be a big issue.

So, without further ado, allow me to introduce my newest boomstick…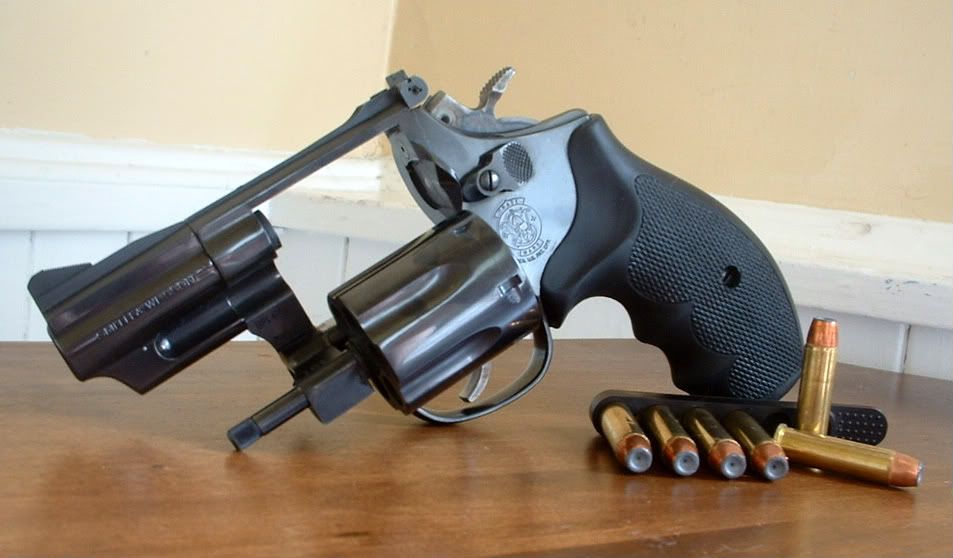 You'll notice it doesn't really look like a government model, and there's a story that goes with it. I was saving up the money for the .45 and lining up all the stuff that needs to go with a new gun, and making frequent visits to the store to commune with my future purchase. When I noticed the Smith Model 19 in the rental case.
It just kind of stood out among the Taurus, and Glock, and Springfield Armory offerings, so I asked to see it, and it felt GOOD. So I put it back - I was buying a gummint model.
Next time at the range for a little practice with the J-Frame, I asked to see it again. It had been in the case for two weeks and I don't think anyone had rented it, or if they had, they had only put a few rounds through it. I asked for a bore light... the inside of the barrel was like a mirror and the rifling was sharp and distinct.

Nope, I've got revolvers, and I'm buying that .45 auto, I said to myself.
I happened to be at the range a week later, and since I was definitely buying the High Standard, there was no harm in renting the Smith, just, you know, to see how it shot...
It shot good. Real good.
I took another turn with the bore light... the forcing cone was clean and showed no evidence of cracking. The finish was black and shiny, without scratches, or wear at the muzzle or cylinder face, and she locked up tight. Hell, there wasn't even a visible drag line around the cylinder. I actually believed Mike, the merchant of death behind the counter, when he said the guy who brought it in claimed only ten or so rounds had gone through it.
So forgive me John Moses. I meant to buy a forty-five, I really did, and there is no excuse but the weakness of my soul for I have been possessed by the allure of the Smith and Wesson.